The product selection is currently being narrowed down. To turn off the narrow down
Narrow down by:
Colour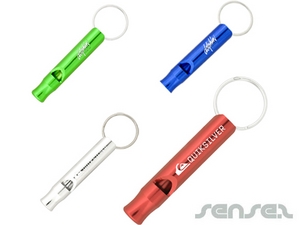 Min Order: 250
Price From: NZ$1.67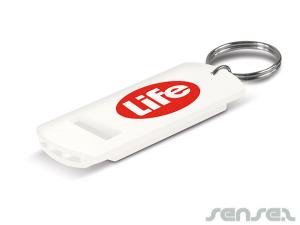 Min Order: 250
Price From: NZ$1.39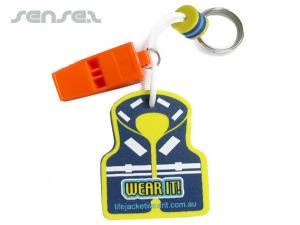 Min Order: 5000
Price From: NZ$1.67
Promotional Whistle Keyrings
Whistle Keyrings: Safety and Style at Your Fingertips

Whistle keyrings are more than just handy accessories – they are powerful tools for safety and convenience. Combining a functional whistle with a practical keyring, these promotional items offer your brand an opportunity to stand out while keeping your customers safe.

Personal Safety First Whistle keyrings are essential for personal safety, allowing users to attract attention and signal for help in emergencies. Whether for outdoor enthusiasts, joggers, or students, these keyrings provide peace of mind and a sense of security.

Compact and Convenient With their compact design, whistle keyrings are easy to carry anywhere. Attach them to bags, backpacks, or keychains, ensuring that your brand is always within reach and top of mind.

Custom Branding Promote your brand in a unique way with custom branding on the whistle keyrings. Your logo or message will be expertly printed or engraved, creating a long-lasting impression on recipients.

Versatile Designs Our whistle keyrings come in various styles and colors, allowing you to choose the design that best represents your brand. From classic whistle shapes to modern and stylish options, you'll find the perfect fit.

Ideal for Safety Campaigns If your brand is associated with safety or emergency services, whistle keyrings are an excellent addition to your marketing campaign. They reinforce your commitment to safety while promoting your brand.

Engage Outdoor Enthusiasts Whistle keyrings are popular among outdoor enthusiasts, hikers, and adventurers. Associate your brand with their passion for exploration and encourage them to take your logo on their journeys.

School and College Giveaways Students can benefit from whistle keyrings as they move around campus or go on field trips. Hand them out as thoughtful giveaways during orientation or safety awareness events.

Sports Events and Races Whistle keyrings are fantastic additions to sports events, marathons, or races. Provide participants with a practical tool that can also be used as a souvenir of their achievement.

Boost Brand Recognition As customers use the whistle keyrings regularly, your brand will gain significant exposure. Every time they reach for their keys, they will remember your brand and the value it brings.

Order Your Whistle Keyrings Today Invest in the safety and satisfaction of your customers while promoting your brand with whistle keyrings. Our team is ready to assist you in customizing these functional and stylish promotional items for your next marketing campaign. Contact us now to discuss your design preferences and place your order. Be the brand that cares for safety and convenience, leaving a lasting impression on your valued customers.